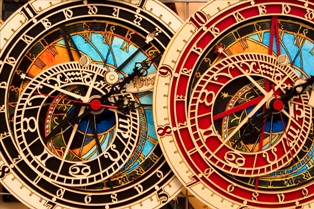 It seems that there's never enough time to add anything new to our classrooms or our lives without taking something else away. I've often thought about how much I'd like to be given the gift of time to accomplish the things that I want to accomplish. While no one has ever actually been able to give me time, I have learned some things that have made me a little more efficient (at least when it comes to my computing time). The biggest one of these is simply using keyboard shortcuts to navigate my computer or some software a little easier or more quickly. If you're not using keyboard shortcuts yet, I encourage you to try them. It might take a little while to get used to them, but once you do, it becomes second nature.
Most of us know about the keyboard shortcuts for copy and paste, but for those who don't, this can be very helpful and save time from right clicking every time you need to copy and paste something. Each of these shortcuts require you to hold down the "Control" key (ctrl on your keyboard) and pressing another key. Just to be clear, you don't have to hit them at the exact same time. For each of these, hold down the "CTRL" key first and then tap the key that has the command that you need. For instance to copy, hold down "control" and then tap the "C" key. This will copy whatever you've selected on your computer to your virtual clipboard and have it all ready for you to paste.
CTRL-C – This command makes a copy of whatever you've selected (text, picture, etc.) and places that copy onto the virtual clipboard ready to paste somewhere else.
CTRL-X – This command cuts whatever you've selected (text, picture, etc.) and removes it from the document you are working on and places that copy onto the virtual clipboard ready to paste somewhere else.
CTRL-V – This command takes whatever is currently copied to the virtual clipboard and pastes that item (text, picture, etc.) wherever your cursor is in your document.
While these are nice and very convenient tools, there are a number of other shortcuts that you may not know about that you can use in your browser. These shortcuts work regardless of the browser you use (Internet Explorer, Firefox, Google Chrome) and can be just another way to get some time back from your tasks.
CTRL-T – This command opens up a new tab in your browser and puts your cursor in the URL bar ready to type in the website that you want to go to.
CTRL-SHIFT-T – This command opens up the last tab that was closed. This is especially useful if you accidentally close a tab because you misclicked and shut that tab. This is also great for monitoring your class. If you've noticed a student has quickly shut a tab, walk over and use this keyboard shortcut and it will pull up the tab that was just closed.
CTRL-H – This command opens up the browser history on that computer cateorized by date. This can be especially useful for that website that you were looking at yesterday but you can't seem to remember where it is today. Open up the broswer history and look through the websites you visited.
CTRL-D – This command will bookmark a website and add it to your favorites.
CTRL-K – This is called the "query" command and it will put your cursor up in the URL bar or the search bar (depending on your browser) readying you to type in a search term into the default search engine for your broswer.
CTRL-# – This one is a little bit different. This command lets you switch between tabs in your browser based on the order that they appear on your screen. If you have three tabs open, "CTRL-1" will open up the left most tab in your browser. "CTRL-2" opens up the second tab. "CTRL-3" opens up the third tab, etc. (See image below)

This is in no way a comprehensive list of keyboard shortcuts but all of these work in all broswers and can certainly help save you some time. If, for some reason, you can't get some of these to work, let me know and I'll see what I can do to help. To make these a little more accessible, I've created a cheat sheet that you can print out and keep by your computer to remind you what each of these do. If you get in the habit of using these shortcuts, you'll have just a little more time and be a little more efficient. I can't give you the gift of time, but these will save just a little bit of it.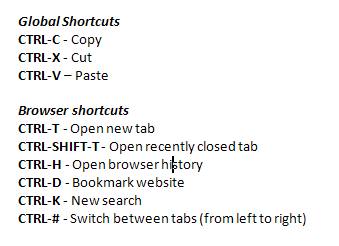 Click here to pull up this picture and then you can print it