Did you know that there is a research tool built right inside of Google Docs that will allow you to gather information from around the web, cite your
sources, and search multiple types of information? Last week I wrote about how to get started with Google Docs as well as some thinking about research. This week I want to expand on both of those themes and show you how to organize your sources (or searches) using the Google Docs Research Tool.
1. To get started, log in to Google Docs and create a new document.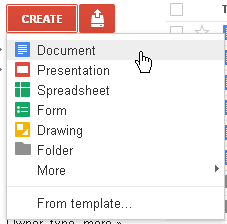 2. Once you are in the document, click on "Tools" and select "Research". This will open a sidebar entitled "Research" that has a search field at the top.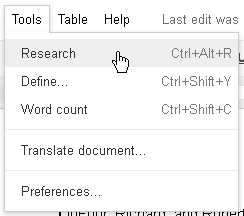 3. Type your topic in the search field (see this post for search tips) and click enter. By default this will do a search of the entire web giving you results just as Google would and give you the results in that side bar. To narrow your search click on the down arrow beside your search term and you can search specific areas of Google.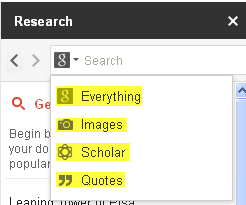 Everything– this searches all areas of Google just as you would on the Google homepage or in your search bar in the browser
Images– this searches Google Images for your particular topic. If you choose one of these images, it records the image URL as a footnote on the page.(great for citing images – more on image settings later)
Scholar– this searches Google Scholar for articles and academic writings. This tool has many (but not all) of the same sources you'll find in databases.
Quotes – this searches the web for specific quotations including your search term.
4. Look at your list of results and choose the one that you either want to refer back to later and you can either go ahead and cite the source using the links provided, or you can click through to the document or webpage. Each piece of information that you pull will add a footnote or a citation to your document allowing you to reference it later. Don't forget, as you create this document, everything is automatically saved and accessible to anyone you've given access permission to. (See this post for information about sharing in Google Docs). This makes collaborative research easier than ever.
Sample web result
Sample Scholar result
Sample Footnotes
5. The last thing that you'll want to know about is about some of the settings in the Research Tool. When you first open up the research sidebar, down at the bottom there is a space where you can change the settings.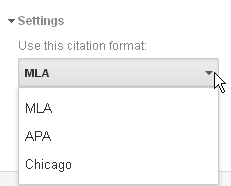 Filter image results – many images on Google Images are copyrighted. If you select "Free to use,share or modify, even commercially," you will only get images that are copyright free and are free to use in projects.
At one point I might have struggled with this for students thinking that they need to know how to cite their sources and that they should have the pleasure of figuring out where the commas and periods go for each kind of source they use in their research. However, I also realize that that's not the way I do research. The tools are available and students should use them. More than anything, this may help to ensure that sources actually get cited. That would be an #eduwin of great proportions.
Finally, I don't believe that this will replace research practices, in fact, I see this as simply a way to organize and keep track of your sources during research. Information should still be fact checked and verified for accuracy  but to keep everything in one place, this is a great way to get started.
If you'd prefer to see how this works, check out this video.