Are you a Google Calendar user? If not, I encourage you to think about trying it out. The ability to share, publish and contribute to a variety of calendars is pretty powerful both personally and professionally.
One of the features of Google Calendar is the ability to add what they refer to as "Interesting Calendars". These interesting calendars include holiday's from countries from all over the world (could be interesting to begin a conversation in a foreign language classroom), sports schedules from professional and amateur teams, and a category entitled "More" that includes birthdays, the Hebrew calendar, phases of the moon and more. When you add these calendars to your Google calendar, the events of that calendar will be added as a separate calendar and the events will show up in your calendar view.
To add these calendars, follow these steps:
Log into Google Calendar
Click on the settings icon in the upper right corner of the screen (looks like a gear) and select "Settings" from the dropdown list.

Click on the "Calendars" tab link at the top of that page and scroll down to the bottom looking for the "Browse interesting calendars" link.
On the screen that comes up, you see three different options that will let you add these calendars. Select the category and find the calendar that you want to add. When you click "Subscribe", that calendar will become a part of your calendars.
Here are a few calendars that I've subscribed to: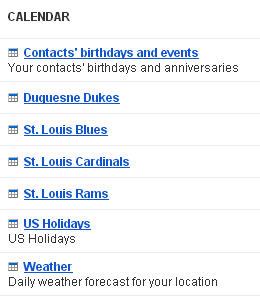 If you're interested in getting started with Google Calendar or need help adding these calendars, let me know.