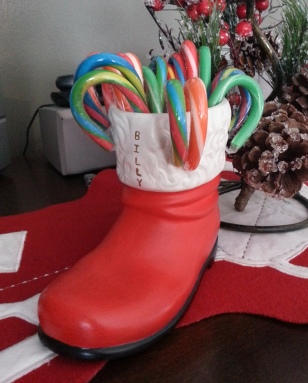 Every year about this time I go into my basement and pull out box after box of decorations to display around my house to celebrate the holiday season. One of the things I always look forward to is coming across a red ceramic boot that was painted by my grandmother and given to me when I was about 4 years old. Emblazoned with a gold lettering spelling out "Billy", this has been something that I've seen and enjoyed every December for as long as I can remember.
We all have holiday traditions that we revisit every year about this time whether it's momentos from years past, traditional activities with our families like baking cookies, or maybe a trip to a favorite restaurant that has become something to look forward to each year. These traditions are important to us. One of the traditions that I now have with my own kids takes place every December 24th as we log into the NORAD website and track Santa's whereabouts. For me, the tradition is only a few years old, but for NORAD (North American Aerospace Defense Command), they have their own tradition that started in 1955. According to their website:
The tradition began in 1955 after a Colorado Springs-based Sears Roebuck & Co. advertisement misprinted the telephone number for children to call Santa. Instead of reaching Santa, the phone number put kids through to the CONAD Commander-in-Chief's operations "hotline." The Director of Operations at the time, Colonel Harry Shoup, had his staff check the radar for indications of Santa making his way south from the North Pole. Children who called were given updates on his location, and a tradition was born.

Since then, NORAD has become the "official" Santa tracker for people all over the world as they log in and see where the big guy is throughout the night. It used to be that Google Earth was your best bet for knowing his geographic location but that's changed and now here are a number of wasys to go about tracking. Simply visit NORADSanta.org and track him via Cesium and Bing Maps or, even better, use your smartphone or tablet and track Santa with your mobile device from either Windows Phone, Google Play or the Apple App Store. To keep you entertained between now and then, there are also games and puzzles that go along with the apps. I'm sure that this year, my family will be keeping track of Santa on our iPad.
Happy Holidays!!