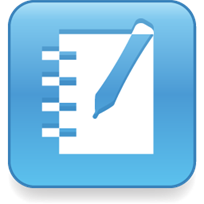 SMART Notebook 10.8 brings some new features to the software and additional interactivity to your SMARTboard. Today I want to tell you about 2 tools that you may not know about and show you how to add them to your toolbar.

Clear Ink – Whenever you use the pen tool to mark up a page, those annotations or drawing will stay with the page until you either close that SMART Notebook file without saving the changes, or you use the eraser to get rid of them. While that's fine, I can think of numerous reasons to want to clear that screen quickly. Maybe a new class is coming in and you're beginning the lesson again, or maybe you want your students to practice problems on the board. Regardless, there are two ways to quickly clear all the ink off of an individual page.
The first way is to right click on any blank space on that page and select "Clear Ink from Page" from the dropdown menu. This will clear all of the Ink while keeping any text boxes or other graphics. However, sometimes right clicking on a SMARTboard can be tedious. So, in version 10.8, SMART gives you the ability to customize your tool bar and add a "Clear Ink" button to quickly do the same task that the right click does.
Add the Clear Ink button to your toolbar:
Right click on a blank part of the toolbar which will bring up the "Customize Toolbar" box.
Find the "Clear Ink" button and drag it onto your toolbar. You will see a blue line show up on the toolbar signifying where that button will be located. When you close the "Customize Toolbar" box, the icon will stay and you now have a quick and easy way to clear all the ink off of any SMART Notebook page while keeping all the other elements in tact.

Clear Page – Another tool that's similar to "Clear Ink" is the "Clear Page" tool. This tool clears all elements off of the page and gives you a blank page. This tool isn't new in 10.8, but because it's not a part of the toolbar by default, it's one that you may not know about. Whether it's a text box, a picture, ink or any other content, the "Clear Page" tool gets rid of all of it. Just like the "Clear Ink" tool, you can access this one by right clicking and selecting "Clear Page" from the menu, or you can add it to your tool bar using the same directions as above.
If you'd rather see how it works, the following video illustrates both of these tools as well as adding each tool to the toolbar.