On January 2nd, 2013, teachers at my school returned for a professional development day. During the afternoon, I helped to organize some learning around technology. This post represents the recap of the work that was done during those sessions.
---
I just wanted to take a moment to recap the sessions that happened at Northeast on January 2nd as a way to provide these resources to those who couldn't make it to these sessions.
Technology Playground – This session wasn't really organized with an agenda, instead questions were asked and answered and the topics varied depending on the questions that were asked. However, these are the topics that I remember us going over during that time.
Browsers – Browsers are essentially the software that interprets and shows the website. In this discussion I shared information from past posts.
Online bookmarking – I've talked a lot about using social bookmarking tools like Delicious and Diigo to not only keep your links somewhere other than your browser, but also to be able to easily share resources with students and colleagues.
Timer Tab – There are many cases that you'll want to use a timer in the classroom to time an activity. However, one of the problems may be that the work that needs to be done is on another website and you can't see how much time is expired or left in the activity. Using a tool like Timer Tab, the timer actually shows in the browser tab so you don't have to stay on that page to see the time. Very handy.
CTA – As you begin to think about what it means for students to bring devices to school and get on line, there are many places to begin. Because there will be a variety of devices that students will bring, I encourage you to think about using tools that have a variety of ways to access it through apps or just using a browser. There are many more such tools but here are two that we talked about.
Keyboard Shortcuts – Keyboard shortcuts are always fun to learn about. These are two that were mentioned.

Windows+D – Holding down the Windows key and selecting "D" will take you directly to your desktop. Using this key combination a second time will restore your windows to their last state bringing up the window you were working on.
Windows+L – Holding down the Windows key and selecting "L" will lock your computer taking you to the Novell login screen. This is a great idea if you're going to leave your computer for hall duty or during your prep hour.
Google Docs – Many of you are already using Google Docs but during this introductory session, I shared a website that I had created for a workshop that I did last year. For those who might be interested in getting started with Google Docs, this might be a good beginning point. Google Docs 4 Edu
Discovery Education – Ben Dueker and Mary Robbins did a great job with this session and made create this handout to get you started using the tools inside of Discovery.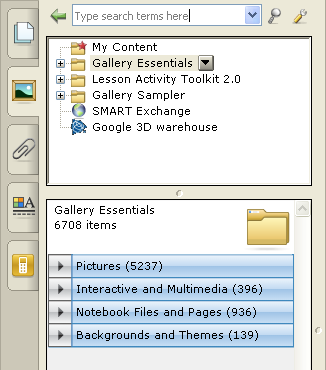 SMART Notebook – During the final session of the day I went over a few of the tools inside of SMART Notebook but most of our time was spent looking at some of the resources that are provides as a part of the software. First we looked at the SMART Notebook Gallery found under one of the tabs on the sidebar in Notebook. This is a great way to find pictures, interactive content, games and other useful tools to use with students.
Then we looked at the SMART Exchange website where teachers can share and download lesson plans to use or modify. Many times this gives a great starting point for creating your own files.
If you have questions about any of the information in any of these sessions, please let me know. I'll be happy to share.