There are some great tools inside of SMART Notebook that are the basis for the interaction between the teacher/student and the board in the classroom. The pen, screen shade, and screen capture tools are all valuable and probably used regularly as a part of instruction. However, these tools are not just relegated to being used inside of SMART Notebook. Using the floating toolbar, these tools can be used with the transparency layer on almost any program when you're hooked up to a SMART Board.
Sometimes the floating toolbar doesn't have the tools that you need when you need them. Because of this, SMART has given you the ability to customize it with almost any tool that you want to use. For instance, clicking on the pen tool brings up a gear beside that tool where you can change the thickness and color of that pen depending on your needs. Clicking on the eraser will allow you to change the thickness of the eraser as well. But you can also change the tools that are available in the toolbar by clicking on the gear at the very bottom of the toolbar and dragging on the tools that you want so you have easy access to them without having to open up SMART Notebook. Think of these as shortcuts to the available tools. You can even organize your tools by type by adding different columns to the toolbar and adding the tools you most use in your instruction. The video below will walk you through customizing the floating tool bar.
Available tools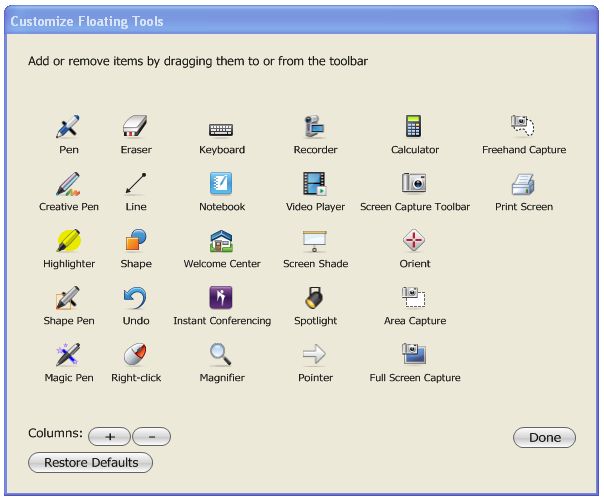 2 Columns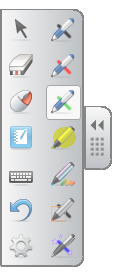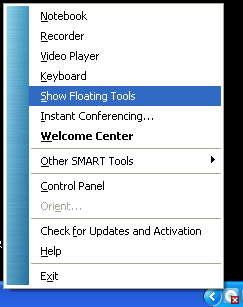 If you can't see the floating toolbar on your computer, click on the SMART Board icon in your taskbar and select "Show Floating Tools" to turn it on. You can turn it off in the same way.